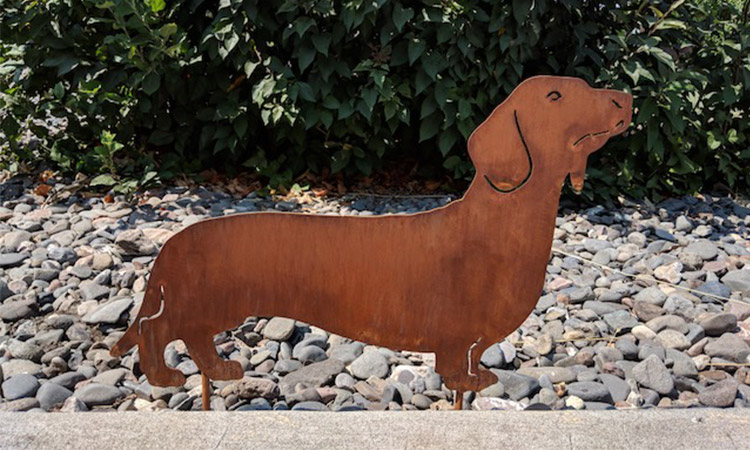 Discover Open Range One of a Kind Finds
When you can combine artistry with functionality, you know you have a piece of work that will stand the test of time. Open Range decor offers a wide range of one of a kind finds for that special someone. (Don't worry, that someone can be you!). 
Rustic home decor 
As a local vendor, Open Range has an appreciation for all things Central Oregon. And showcases the art-meets-nature aesthetic that the area has in spades. Owner Denelle Martin started Open Range as a small shop in Sisters where she could "create, build, and sell her art."  
Since then, she has expanded to locations in Bend and Redmond in addition to a larger manufacturing studio. And her line has grown from 47 to 500 pieces. In addition to her metal wall decor, landscape art, and kitchen art, she also creates custom home decor and furniture. 
All pieces are functional, as well as beautiful. 
The durability of Open Range metal
Metalworking has been around for thousands of years. At its most basic, it is the "shaping of metal into different parts and assembling or creating metal structures." The medium is functional, durable, and versatile and features in everything from Boeing jet planes to the pieces of artwork you can find in Open Range's studio. 
As shown by Open Range's landscape art, metalwork can stand against harsh conditions and retain their form and function. The pieces at Open Range use 14-gauge steel. With options for polished metal with a clear topcoat or powder-coated rustic finish. 
Custom pieces at Open Range 
Take one step into the Open Range store, or scroll through the online inventory, and you are instantly overwhelmed by the volume of quality products. With such a display, it can be difficult to choose the right gift––or four! 
Yet, if you do not see exactly what you need, Denelle and her design team can help create the exact custom piece you envision. Whether that is a piece of metalwork to hang in your office, an ornament for your best friend's tree, landscape art for your grandma's yard, or a custom piece of furniture.  
Ordering online? You can have your order shipped to any address in the U.S., or pick it up from any of Open Range's three locations. 
Buying and supporting local 
Open Range is the ideal place to find your home's next talking piece or a gift for a loved one. Whether you stop by Denelle's brick and mortar in the Cascade Village Shopping Center or shop online from the comfort of your home, you are supporting a local artist and furnishing your home with quality, durable art.